Resources
Epilepsy in the News
Spread the Word
Our Stories







Epilepsy and Water Safety Bracelet
What does your bracelet say?
Orders for the "Epilepsy Isn't Waterproof" bracelet cannot be taken at the moment. I have recently moved to France and while in this transition period am unable to ship out bracelets. Sorry for the inconvenience! If you are interested in buying the bracelets bulk for an event, please contact me and I can give you information for my supplier.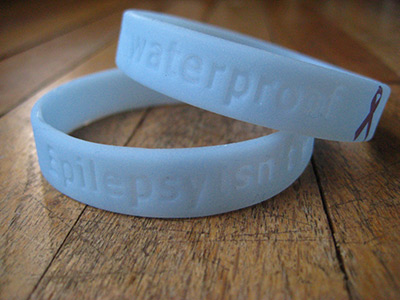 Designed exclusively for ozville.org, this light blue silicone bracelet can be worn as a reminder that life is fragile, and that seizures can be deadly if they happen at the wrong time, in the wrong place. Remind yourself and others that water safety is important, whether it's in the pool or in the tub.
The bracelet is debossed with the phrase "Epilepsy isn't waterproof", with a small lavender epilepsy awareness ribbon screenprinted on it, and www.ozville.org embossed on the reverse. As a bonus - expose the bracelet to light and then find a dark place to watch it glow!