Marieke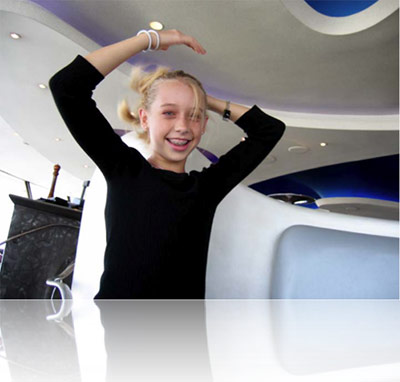 Marieke was born on November 11, 1991, and died on April 30, 2006.
Marieke developed epilepsy as a young child, but for most of her life had it controlled with medication. On the last of her bi-weekly visits to her father's house, she shared the results of her latest visit to the doctor, who had excited her by saying that perhaps they could take her off medication soon, since she hadn't had a seizure in over two years. Although the news was hopeful, we told her not to stop until he said she could, and asked, "did you take your medicine this morning?" We got the sheepish grin that always meant "no." We hurried her off to take her pill and she said with an exaggerated sigh and a laugh, "I'm not gonna die!" We told her not to even joke about such things, the thought was too terrible.
She seemed slightly preoccupied with dying that weekend, stating more than once that she wanted to go to heaven. We didn't think much of it then, though now the words haunt me.
The next weekend, we drove across town to see her and her brother in their school's production of Grease. Marieke had determined earlier in the year that she wanted to be an actress, and had shown enormous talent and potential. She had starred in two short films and went on to win Best Actress at the 168 Film Festival in 2006. At the same time, she auditioned for L.A.C.H.S.A. (Los Angeles County High School for the Arts) and was accepted. Life was great. She'd spend the week busy with after-school rehearsals and preparation for that weekend's performances. Saturday was hectic and wonderful. Even though initially disappointed at being cast as a member of the chorus, she was now having the time of her life.
I remember watching her during the musical, not taking my eyes off of her (except to look at her brother, who shared some scenes with her!). I thought about how we'd share our memories of her bouncing down the aisle in her poodle skirt and ponytail, or watch the video of her dancing around as the prettiest, most petite beauty school drop-out on the stage. I imagined her exclaiming, "look how little I was!" After the play, we hugged good-bye. That was the last time I would see her alive, the last day my world would exist.
Marieke came home with her brother after the cast party later that night and decided she wanted to take a bath. After hearing the water running for what seemed to be a little too long, her mother checked in on her, only to find her unconscious in the tub. She was pronounced dead at the hospital early the next day, as we all waited – hoping, praying, crying - for a different outcome in the emergency waiting room.
The toxicology report later showed that she had no Tegretol in her system.
We don't know for sure if she forgot to take her medication, or if the levels were just too low to continue to manage the seizures as she was growing.
Marieke is missed by everyone who knew her. There is nothing we can do to bring her back, but the one thing we can do is share her story with others and hope that future tragedies are avoided. Ozville is dedicated to spreading awareness of the seriousness of epilepsy, in honor of Marieke.
No one should have to lose someone they love to epilepsy.
I've created a personalized page at the Epilepsy Foundation website for Marieke, and if you want to share your story or your child's story, you can create a page for them as well. We need to unite in our goal to, as the Epilepsy Foundation puts it, "make sure not another moment is lost to seizures." Heroes Among Us
Kendal
United States
(NOTE: About epilepsy and adolescence. Some children with epilepsy notice their seizures changing in type or in pattern, or cease all together when they enter puberty, because of the hormonal changes affecting the brain. Some children with no history of seizures at all may find themselves having them. It's a difficult time, when the levels needed to treat the seizures may have to be constantly adjusted to keep up with the changes in the body.)