Making Life Better
Since ozville began, I've been trying to figure out exactly what to put on it, how to tie things together. I mean, I've got the petition page, the epilepsy page, the main search page, and this eco-blog. Or, it started out as an eco-blog. But really, the main purpose was to introduce you to things that will make your life better. Things that help the environment you live in, things that will keep you healthier. But I'm expanding now. I'm going to include information and suggestions for things that will help you out spiritually, financially, emotionally... I want to hit it all! This blog will be a well-rounded blog! As I move forward and learn new things, I will share them with you here. Here are a few tips for today...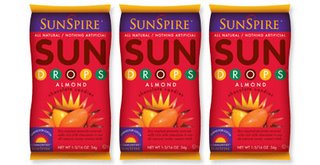 In health and environment!
I had a craving for some SourPatch kids today, but I'm trying to stick to my goal of eating organic. So I picked up some candy at
Pharmaca
. I picked up
some gummy worms, fruity bears, and gummy swirls. None of them (no, I didn't expect the gummy worms to be sour) ended up quenching my SourPatch Kid craving, but they're darn good candy! They're made by
Surf Sweets.
I also picked up some organic M&M's. So good. They're called
SunDrops, by Sunspire.
Mmmmm. I actually really like the almond ones, but the peanut was on sale. You have to get these. They make M&M's taste stale.
In financial news...
Right now, I'm looking into a new way of making an income online. I don't really want to say much about it at the moment, I want to see if it works first, but I will give you a progress report later.
In epilepsy news...

I've ordered more bracelets, and should have them by the end of the month. I would appreciate purchases! The more I buy, the better the bulk price is, and the more of your $5 I can put towards more bracelets to hand out at Epilepsy Foundation walks. So I have 300 on the way. But the goal is to have 1000 bought and paid for and ready for the October/November walk (I'm too lazy to look it up right now). I love giving out these bracelets, and if I had a ton of extra cash lying around I would gladly just buy them without having to sell any, but for now... that's how it goes. Thank you everyone who HAS purchased bracelets! You're awesome.
Labels: epilepsy, make money online, organic, Sundrops, Surf Sweet