I'd like to start my series of entries by sharing these two articles from the November 2007 issue of Whole Life Times.
Exposed
Healthy Living
And if you're too lazy to read… in a nutshell:
"For the past several years, government and independent researchers have studied the blood, urine and breast milk of people in all regions of the world. The studies reveal that every single one of us is contaminated with scores of synthetic chemicals that are known to be toxic.
The studies show that:
* Chemical exposure can impact the hormonal system and disrupt normal development at doses far lower than previously expected;
* Genes and chemicals can work together to cause disease;
* Mixtures of chemicals can have enhanced and unexpected effects;
* Early life exposures can lead to health problems that don't show up until much later in life."
I share this because many of the products I have been inspired to feature here were in response to these articles. After realizing how many chemicals we surround ourselves with, and unknowingly ingest or absorb, I made it a mission to start surrounding myself with less chemicals, and more organic products.
So for the first of the series of "it won't kill you" products, I'm going to introduce Earth Science natural deodorant (
www.earthessentials.com
).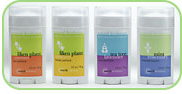 It's been shown that aluminium and triclosan (also known as irgasan and microban), both in many antiperspirants and deodorants, have negative health effects. There has been evidence that aluminium (which is a powerful neurotoxicant – i.e., toxic to the nervous system) is linked to Alzheimer's, and triclosan exposure may be linked to cancer. A good article on this can be found at
Grinning Planet
. According to Wikipedia, Triclosan is found in soaps (0.15-0.30%), deodorants, toothpastes, mouth washes, and cleaning supplies. Apparently (and I'll be looking into toothpaste sometime down the line as well) researchers that have found that triclosan can react with the chlorine in tap water to form chloroform. This is a toxic chemical that can cause cancer. Yikes.
Ok, so back to the deodorant. I've been using the Tea Tree & Lavender 'flavour', as I like to call it, and have been very happy with it. This week, I purchased the Mint Rosemary and am going to give that a whirl. Earth Science also has Liken Deodorant (herbal or unscented). The ingredient list for Mint Rosemary (which I have right in front of me) contains: An herbal infusion of Calendula, Sage, Goldenseal, Ginger, Amica and Coriander Extracts in Propylene Glycol, Water, Sodium Stearate, Rosemary Oil, Mint Oil, Lichen Plant Extract, Chamomile Extract, Silica.
You can find Earth Science's products at Whole Foods and other natural food stores or pharmacies, for about $5.99. You can also order online at places like
Amazon.com
.
There are obviously more brands that offer aluminium and triclosan-free antiperspirants and deodorants, so shop around for one that works for you. I just enjoy Earth Science. So that's what I'm recommending! If you have a favourite, please feel free to share!
Labels: chemical exposure, Earth Science deodorant