Staple-less stapler, oh my!
First, I have to say, I've been trying to post this for the past couple days, but have been having trouble with Blogger. I think the internet is broken. But finally, it's working! So.... here goes. 
This is the most awesome stapler EVER. At least from my point of view, as an actor. I always want to make it easy for the receiver to recycle my headshot and resume (if they don't need it), but staples are a hassle to pull out, so I'm sure they end up in the trash bin instead. Plus, I know that staples can catch on things, or make a pile of headshots a little lob-sided. Little things, I know. But anyway, this stapler is awesome. I will never have to worry about running out of staples in the middle of attaching headshots to resumes. Anything I staple can be put through a shredder, or recycled... I'm having so much fun with this thing! Granted, it can only do a few

sheets at a time, so you'll still need a regular stapler for your 10-page report, but this thing... is definitely one of the coolest little inventions I've seen. There seem to be a few versions. This is the one I got:
From
www.uncommongoods.com
. It comes in a set of two, a blue one and a green one, for $12, plus shipping . Looks like you can get the same ones in different colours at
www.thinkgeek.com
as well, for $5.99 each.
Now that I decided to make a post about these things, I'm seeing all these other staple-less staplers that I like, too! Check these out. Little doggie and kitty staplers:
You can find them at
www.thinkgeek.com, 
for $7.99 each. I think these are great for kids! You don't have to worry about them stapling themselves, or eating staples or stepping on staples... Brilliant, I say. 
I like the look of this one. It looks a lot like a normal little stapler. I'm kind of wishing this is the one I got.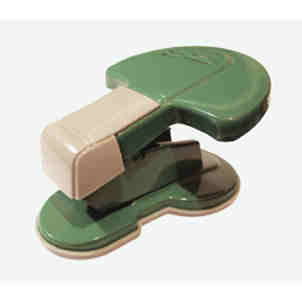 You can find this one at
www.naturalcollection.com 
for £5.82 . Yes, it's in pounds, and therefore a bit more expensive than the other ones for us Americans. But it's so cute!!
If you want something that looks sleeker, and maybe looks a little better on an office desk, check out this one: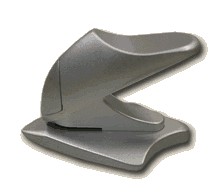 That photo doesn't look right, for some reason, but that's the way it downloaded. Oh well. You can see it here:
www.jbox.com. 
This is a more expensive one, at $36, but it is pretty cool looking... Seems to be a Japanese model, and can stitch together 7 pieces of paper. The others only claim to do about 4 sheets. 
You can also find a couple different styles and colours at 
Amazon.com
(which I normally check first for things I want to buy, but for some reason didn't, and now I'm afraid I might end up buying more staplers, cause they're all so coooool!).
I'm just crazy about mine. I'm "stapling" everything I can get my hands on. I do have to say, there are two downsides that might make you keep your regular stapler on hand. One, it doesn't do many sheets, and two, if you goof up, and say, staple things together upside-down, it's a little more obvious than if you had stapled them and redone it. But I still recommend them! 
Labels: eco-friendly, environmentally friendly, Green, office supplies, save money, staple-free stapler, staple-less stapler, stapler, staplers